Want to know what to do once your competition ends? Read on...
This article will pick up from the point when your competition has ended and provide with all the information you need to know when closing off your card's competitions. Read on for a step-by-step guide on what your options are once this occurs.
Contents:
Unpublishing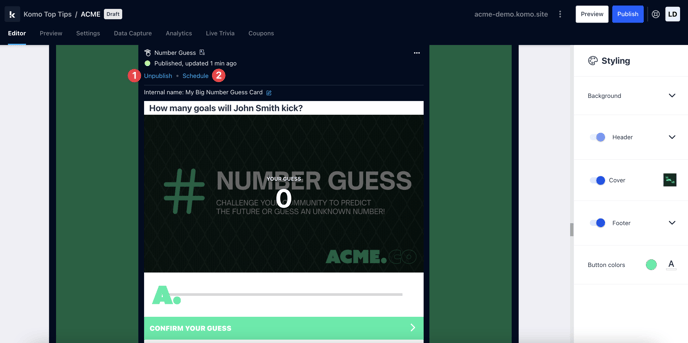 You have a couple of different options when taking your content down from the Engagement Hub.
(1) If you had manually published your card, you can simply click on the unpublish option here. This will manually take down the content from your hub.
(2) Alternatively, you can schedule a time for your content to be automatically unpublished from your hub here.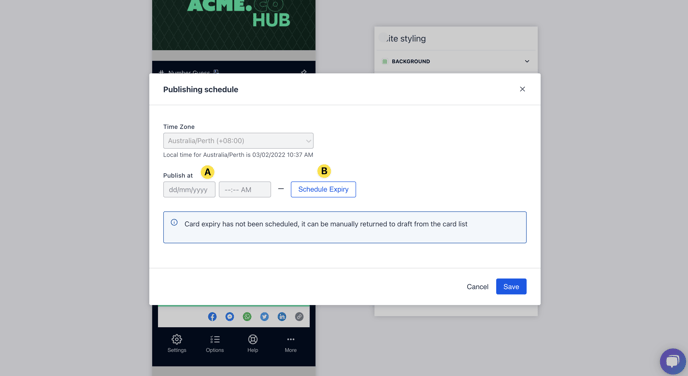 (A) You would use this option to make your content go live at a set date.
(B) Set the date/time your card will be automatically unpublished from the Engagement Hub.
Awarding Prizes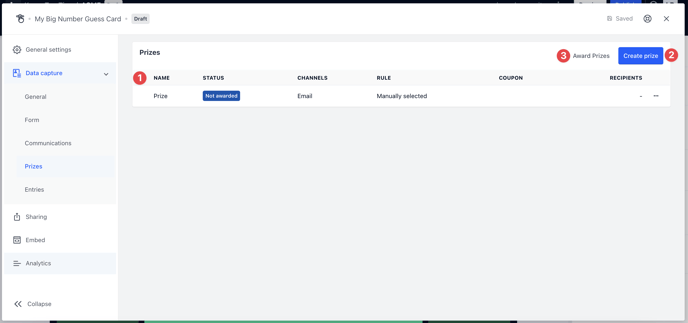 Note: We recommend setting up prizes prior to running your competition, however, if you haven't set them up you can do this by clicking on the Prizes tab.
(1) This area will provide you with an overview of all the prizes you've created for this card.
(2) By clicking here you can begin the process of creating a new prize.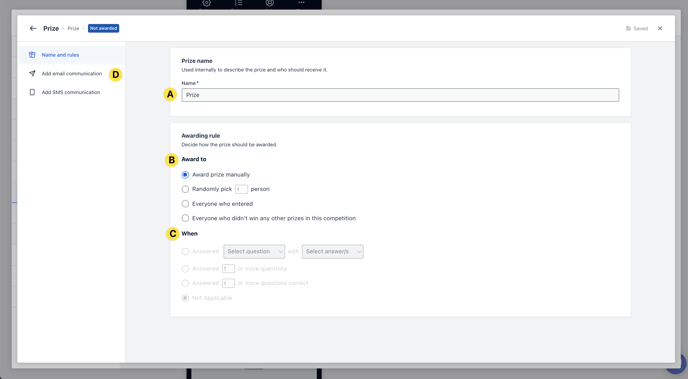 After selecting Add Prizes you will be redirected to this window.
(A) Add an internal name to your prize.
(B) Start building out your prize award rules. The awarding rules are detailed below.

Award prize manually - Requires you to select an entrant/entrants to receive the prize.
Randomly pick X persons - After clicking Award prizes the prize will be randomly allocated to X number of entrants.
Everyone who entered - Every entrant will receive the prize.
Everyone who didn't win - Every entrant who hasn't won any other prize will receive this prize.

(C) Use these options to further refine which entrants will receive this prize, to make these options selectable first click Everyone who entered.

Answered 'select question' with 'select answer' -

This option awards a particular prize to entrants who respond with a selected answer to one of your questions.

Answered X or more questions -

This option simply allows you to reward people who answered a predetermined number of questions.

Answered X or more questions correctly -

Awards the prize to people who answered a predetermined number of questions correctly.

(D) Customise the communication associated with that prize, within the communication you can attach coupons.
(3) Once your card's competition has closed, click this button to award the prizes.
Downloading Entries
To view all competition entrants, click on Entries.
(1) Clicking here will allow you to download a .CSV file with an overview of the information entrants provided in the data form, along with their responses to your content.
(2) This area will populate with data once people enter your competition.
Analytics
To view an analytical breakdown of how your card performed simply select Analytics within the card settings.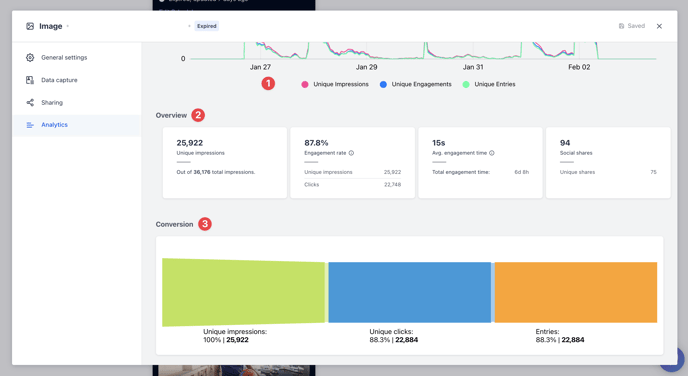 (1) This worm graph conveys how the stats fluctuated over time
(2) This area provides a quick overview of the cards statistics
(A) This conveys how many unique people viewed the card on your hub, whilst the number below shows the total views that card had.
(B) This stats shows the % of people who interacted with the card after viewing it.
(C) Shows the average time spent engaging with the card.
(D) Conveys how many people have shared your competition on their social media.
Announce Your Winners
After your competition has ended we highly recommend announcing your winners either on the Engagement Hub, Social Media or EDM. This is a great way to drive people back to your Hub, to participate in future competitions and content.
One last note:
At Komo, we pride ourselves on not only the results our clients achieve with us but the service they receive whilst bringing their Hub's to life.
If you ever have any questions about an upcoming activation, how you can best utilise Komo to get the best possible outcome, or just a general query, please don't hesitate to reach out to your Customer Success Specialist or email us at support@komo.tech
We also love your feedback, so please let us know if this article helped you by selecting from the options below.
Louis Docherty
Head of Customer Success