Challenge your community to predict the future or guess an unknown number.
Contents:
What is it?
The Number Guess card allows users to numerically respond to a prompt by moving the slider. It can be used for questions like "How many cookies in the cookie jar?" or for a predictive game scenario such as "How many kicks will X player have?"
By default, the Number Guess card has a competition added which we strongly recommend keeping for the best user experience; however, you may decide to turn this off by deleting the data capture.
See it in action
Watch it come to life
How do I build one?

Step 1: Add a Number Guess card to Your Hub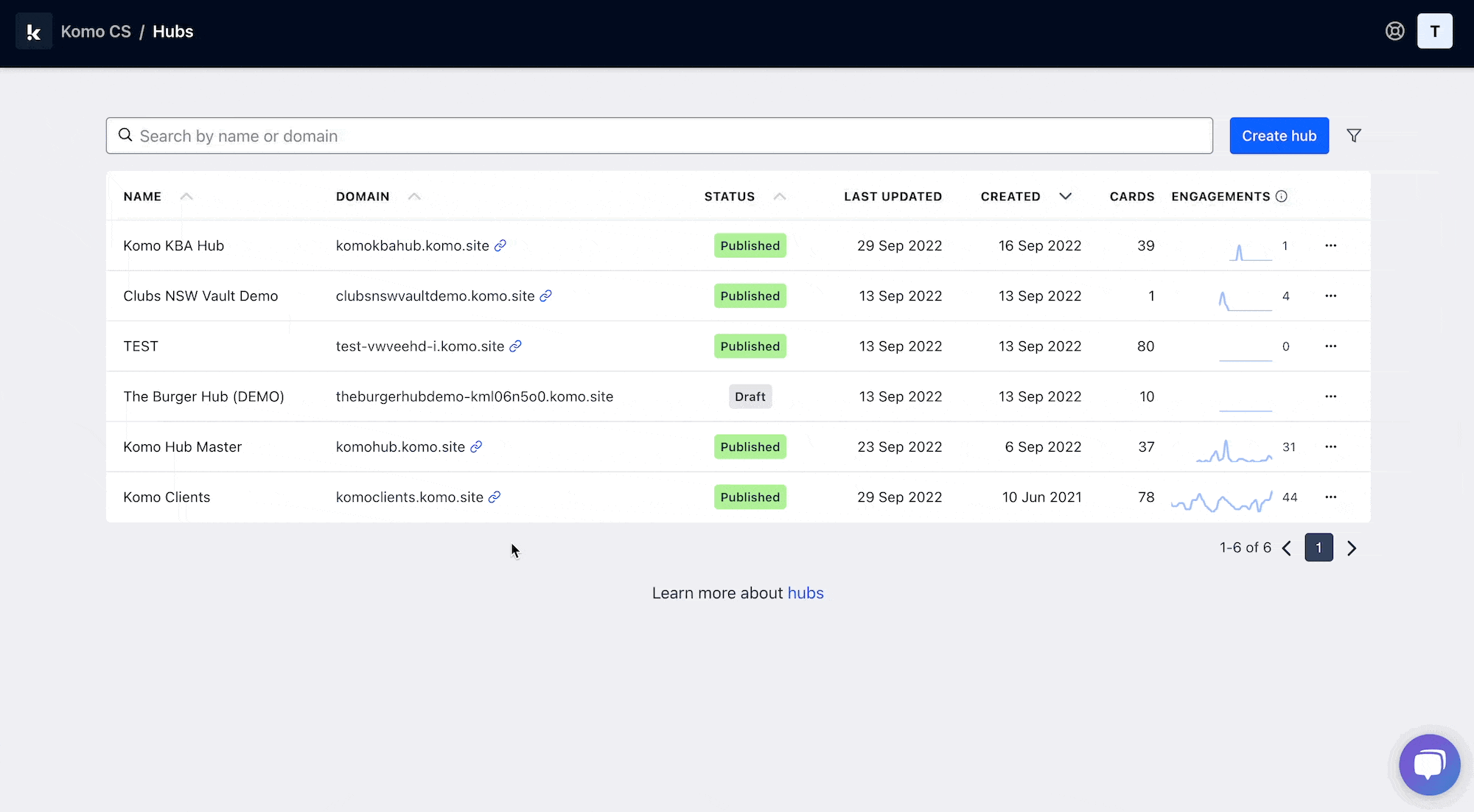 Navigate to your Engagement Hub.
Once there click Add Content, from here select Games and then Number Guess.
You will then see your new card has been added to your Hub.
Step 2: Configure Your Settings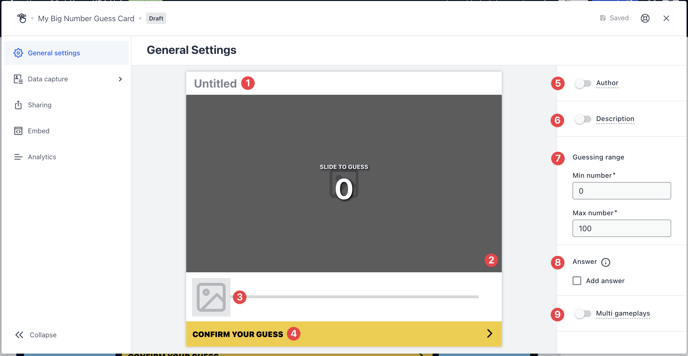 Clicking on the Number Guss will open the editing module.
(1) This is where you will add your question.
(2) Upload a cover image. Keep in mind that the image you upload will have automatically have a black overlay applied.
(3) Upload a slider icon. For best practice, we recommend uploading a .PNG format image with the background removed.
Note: You must upload a cover image and slider image in order to publish your card.
(4) By clicking here you can customise the copy and colour of the call-to-action button.
(5) You can add an author tag by displaying the brand or person who's responsible for the card content.
(6) Add a description to the card.
(7) Here you can set the range that entrants can guess within.
(8) Add the option to reveal the correct answer to your question following a user's confirmation of their guess.
(9) Allow users to play multiple times.
Step 3: Set up Your Data Capture
Whilst adding competition to your Number Guess card is recommended to collect data, it is not always required and can be used purely as an engagement piece.
Note: Unlike other cards, by default, a data capture is already added to the Number Guess card.

Step 4: Publish your card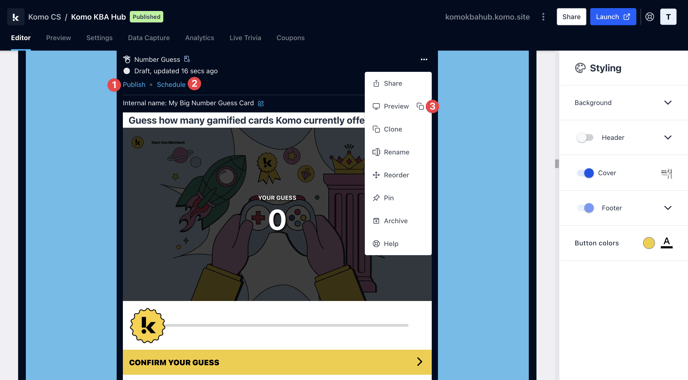 Once you've completed all of these steps, played around with your card and are happy with all the aspects of your card, it's time to get your card live!
(1) Publish your card manually for the world to see!
(2) Schedule your card to be published and unpublished at set dates and times.
(3) Click on the ... to Preview and interact with the card on the front end from a user's perspective before publishing it. See how to test your card here.
Note: All competition entries will be recorded and will impact the card analytics.
"Go Live" Checklist
Ready to go live with your Number Guess? We recommend reviewing the following list before launching and double-checking if you have:
All images uploaded are the correct dimensions. Export image files in 2x to ensure none of the images appear pixelated.
The slider image with a transparent background.
Hyperlinked your T&C's to the opt-in-field, which is created in the data capture section of the settings tab.
Entered the minimum and maximum numbers for the guessing range.
All your communications (Registration, Winner/s, Everybody Else) are fully set up and ready to send.
If you are using coupons, make sure the coupons created are set up correctly. Check the coupon limits are set, the copy for each screen is right and you have linked the appropriate coupons to your communications.
If you have added the correct answer, make sure to close the competition under Data Capture and then General. This is so when the competition ends, users will be able to view the correct answer on the card.

Then you're ready to go live!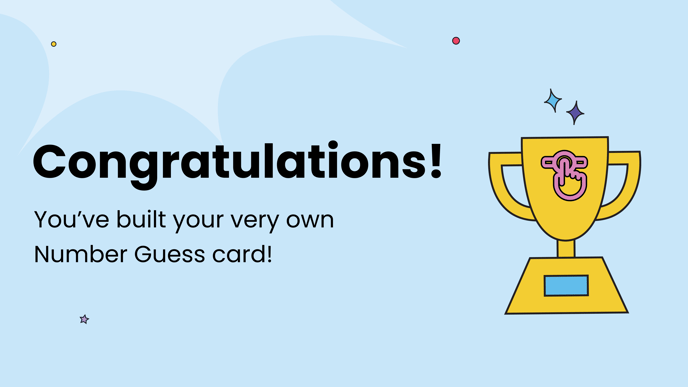 Promotion

FAQ
How do I change the guessing range?
Click on the Number Guess card's Settings followed by General settings. Next select the Guessing range and from here you can set the minimum number and maximum number an entrant can submit.
The competition has closed; how do I access the data?
Press the Settings Cog located on the bottom of your Number Guess Card; you can then click on Data capture followed by Entries. Here you can download the complete export of data collected or click on the Analytics tab to get a high-level overview of the card's performance.
Top Tips
Make sure the slider image does not have a background e.g. using a soccer ball, the image is of the ball on its own without a background. This makes the card more appealing.
Adjust the minimum and maximum guessing range accordingly. Try not to have the maximum guess in the thousands as the slider will be sensitive if the maximum guess is too high.
Drive your audience to certain touchpoints or locations to further promote your brand. E.g. guess the number of marshmallows in the jar at our Komo office.
One last note:
At Komo, we pride ourselves on not only the results our clients achieve with us but the service they receive whilst bringing their Hub's to life.
If you ever have any questions about an upcoming activation, how you can best utilise Komo to get the best possible outcome, or just a general query, please don't hesitate to reach out to your Customer Success Specialist or email us at support@komo.tech
We also love your feedback, so please let us know if this article helped you by selecting from the options below.
Louis Docherty
Head of Customer Success