Want to know how to set up a data capture for one of your cards? Read on...
If you're wanting to run a competition on your card you'll need to add a data capture. The data capture allows you to gather entrant information whilst also granting the ability to send communications and prizing.
Tip: Create a Default Form and save yourself time by not having to set this up each time you create a new competition, you can learn how to do this here.
How do I set up my data capture?
Step 1: Add a data capture to the card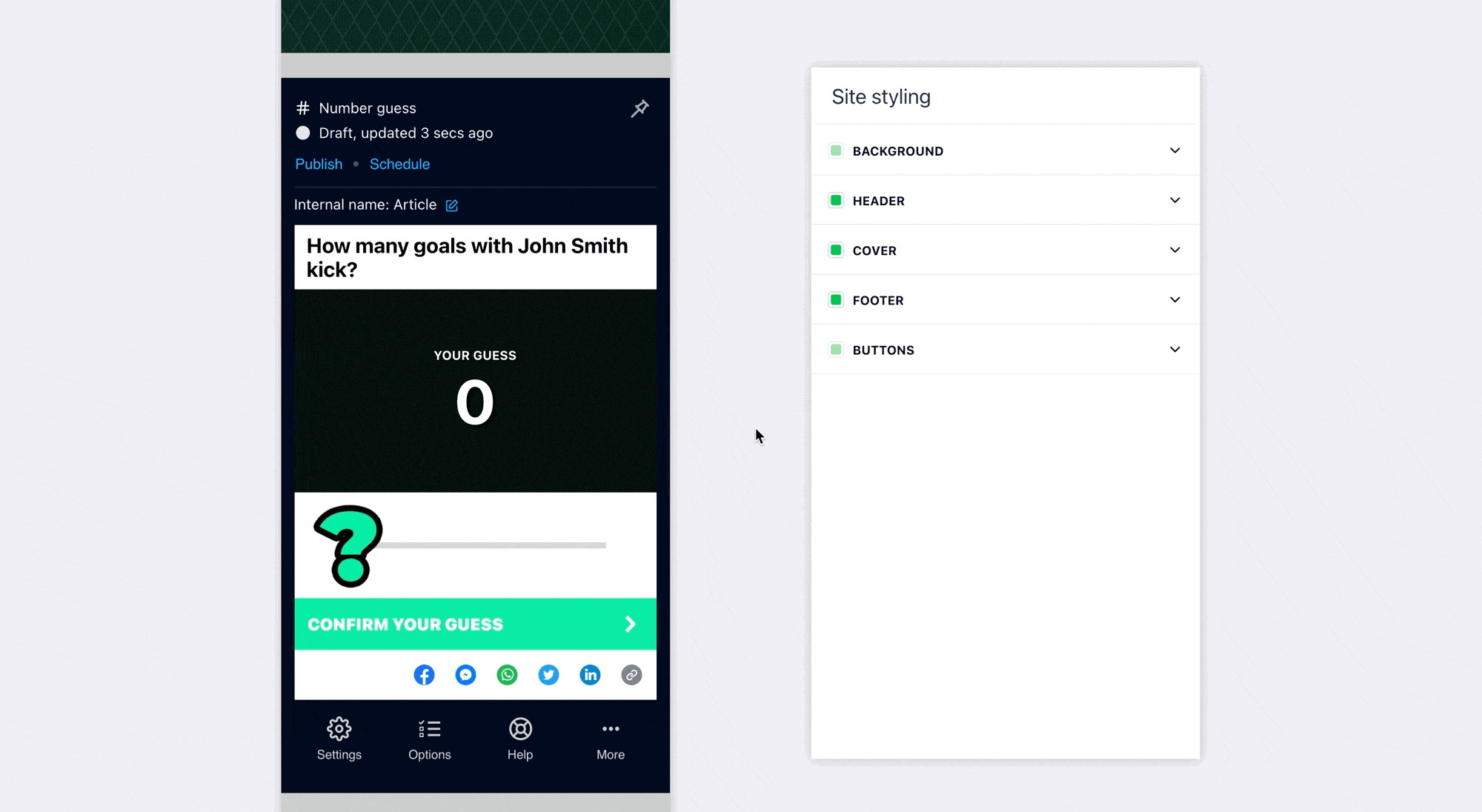 Once you have created your card's content and are ready to add a data capture click on Settings.
Following this select Data capture and then click Add data capture.
This will reveal additional settings on the left-hand side that you will use to set up your competition.
Step 2: Configure your data capture general settings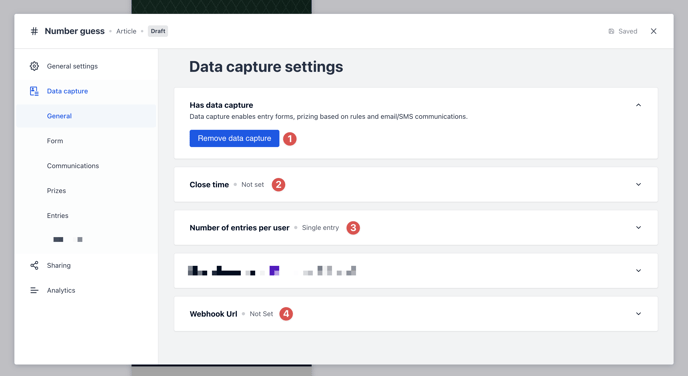 Under the
General
tab, you can customise various settings specific to the data capture.
(1) Here you can remove the data capture. (This will delete the entire competition element attached to this card)
(2) Adding a close time will prevent people from entering the competition after a certain point.
Note: users will still be able to play through the card, the data capture will just not pop after completion. If you don't wish for users to play through after the close time has passed you can schedule this card up to expire at a set time.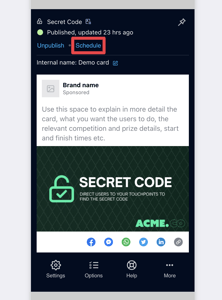 (3) Here you can set the number of times users will be able to enter.
(4) Adding a webhook allows you to send entrant's data directly to your CRM.
Step 3: Set up your form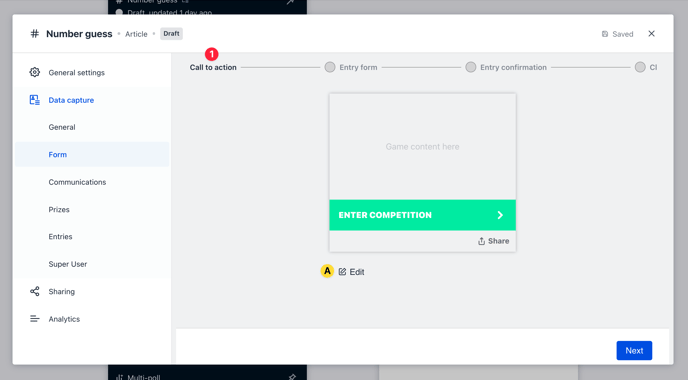 By clicking Form you are able to alter the journey your users will take when entering your competition.
(1) This section allows you to edit the card's call to action.
(A) Click Edit to change the call to action text.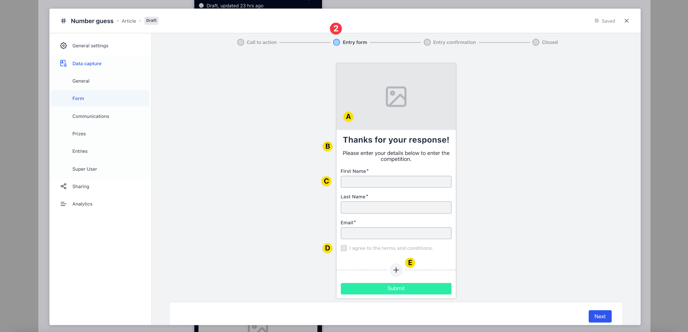 (2)
This section allows you to customise your form fields.
(A) Click here to upload a header image.
(B) Here you can customise the copy within the header of your form
(C) These are your data fields and comprise the information the user will need to supply in order to enter your competition. (E) You can add to these fields by clicking the +.
There's nothing we can't ask for in this form in some way or format!
Note: You can attach your own data lists and unique codes to the Data capture form.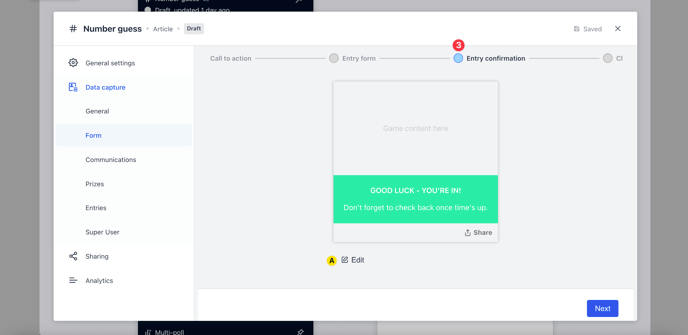 (3) Here you can customise the entry confirmation message.
(A) Clicking here will allow you to edit the copy.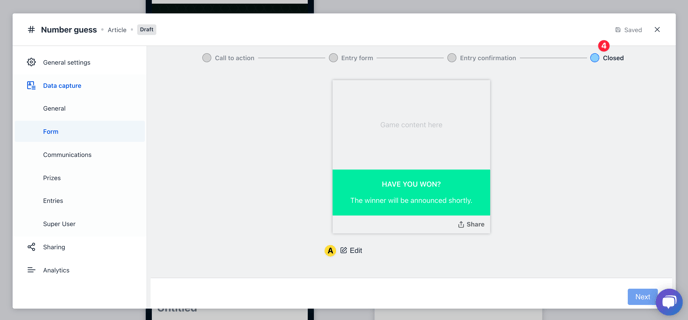 (4) Here you can customise the message that appears when the competition is closed.
(A) Allows you to edit the closed competition copy
Step 4: Communications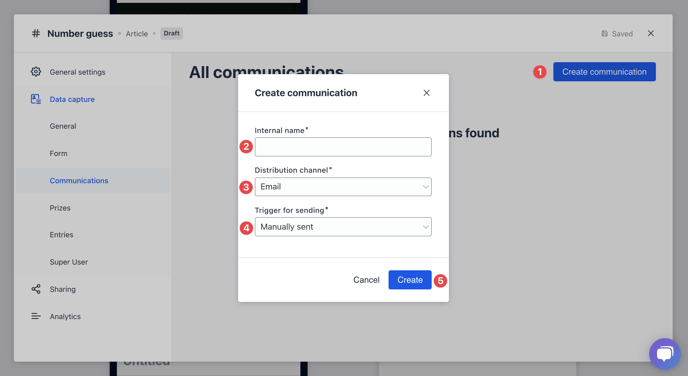 Clicking on the Communications tab will provide an overview of all the communications participants could potentially receive by engaging with your card.
Note: Within the Komo platform you can send both email and SMS communications. SMS communications start at 12c/SMS segment.
(1) Click here to begin creating a new communication.
(2) Add a name to that communication, this is internal and the name won't be seen by the recipients.
(3) Here you can set whether your recipients will receive the particular communication via email or SMS.
(4) Sets the conditions that need to be met in order for an entrant to receive this communication. The three options here are:

Manually Sent -

Requires you to select an entrant/entrants to receive the communication.

On form registration -

Once a user submits the form they will trigger this communication.

At a scheduled time -

All entrants will receive the communication at the set time.

(5) Click here to create a communiation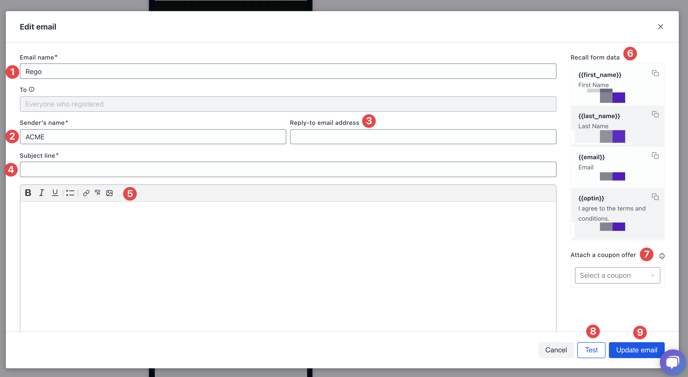 After clicking Create this screen will pop up and you can then customise your communication.
(1) This is the internal name.
(2) You can edit the sender's name. By default, this is set to your Company name in the portal.
(3) Set a reply-to email address
(4) Add a subject line
(5) Use the toolbar for greater options when creating your communication. These options are only available for email communications.
(6) Copy and paste these codes into your email to personalise your communications by pulling data collected when your user fills out the form.
(7) (Optional) Attach a coupon to be sent out within your communication by copying the coupon code.
Tip: You can add this code within a button to hide the URL.
(8) This option allows you to test the communication.
(9) Once you're happy with your communications hit saves changes.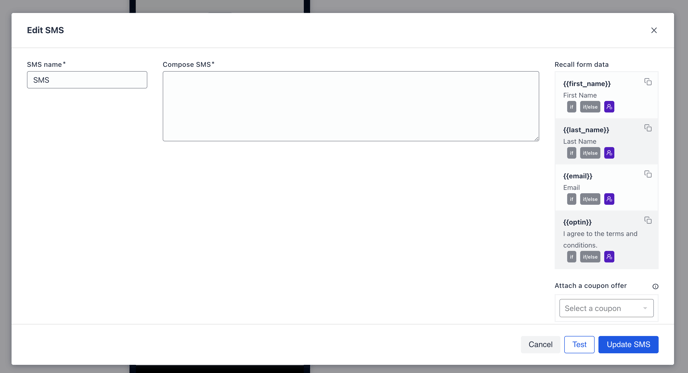 With SMS communication you also have the ability to pull form data information and attach a coupon. To customise your SMS sender name check out our article here.
Step 5: Prizes
By clicking on the prizes tab this will provide you with an overview of your created by prizes. Note that the prizes tab relates to all communications relating to prizing and will be primarily, but not necessarily, be distributed post-competition closure.
(2) By clicking here you can begin the process of creating a new prize
(3) Once your card's competition has closed, click this button to begin the prize award process.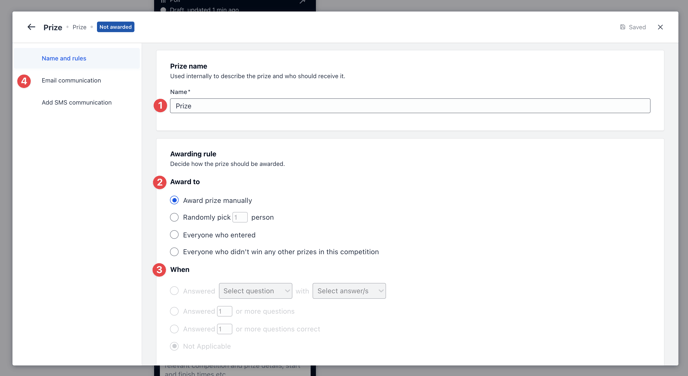 After selecting Add Prizes you will be redirected to this window.
(1) Add an internal name to your prize
(2) Start building out your prize award rules. The awarding rules are detailed below.
Award prize manually - Requires you to select an entrant/entrants to receive the prize.
Randomly pick X persons - After clicking Award prizes the prize will be randomly allocated to X number of entrants.
Everyone who entered - Every entrant will receive the prize.
Everyone who didn't win - Every entrant who hasn't won any other prize will receive this prize.
(3) Use these options to further refine which entrants will receive this prize.

Answered 'select question' with 'select answer' -

This option awards the particular prize to entrants who respond with a selected answer to one of your questions.
Answered X or more questions:
This option simply allows you to reward people who answered a predetermined number of questions.
Answered X or more questions correctly:
Awards the prize to people who answered a predetermined number of questions correctly.
(4) Customise the communication associated with that prize.
Step 6: Entries
Once you have set up your data capture and published your card, people will be able to enter your competition. To view an overview of your competition entrants click on Entries.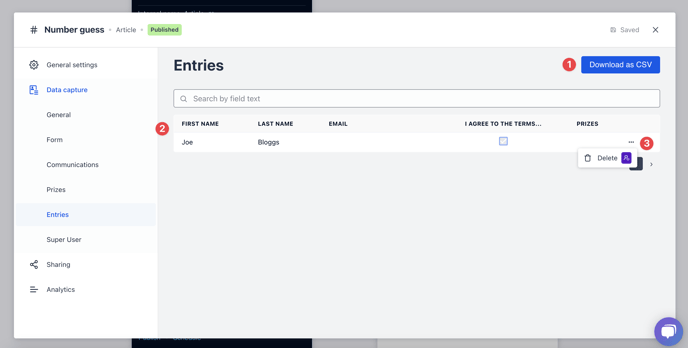 (1) Clicking here will allow you to download a .CSV file with an in-depth overview of your entrants information.
(2) This area will populate with data once people enter your competition.
(3) Clicking on the three dots icon will allow you delete a specific user's entry.
One last note:
At Komo, we pride ourselves on not only the results our clients achieve with us but the service they receive whilst bringing their Hub's to life.
If you ever have any questions about an upcoming activation, how you can best utilise Komo to get the best possible outcome, or just a general query, please don't hesitate to reach out to your Customer Success Specialist or email us at support@komo.tech
We also love your feedback, so please let us know if this article helped you by selecting from the options below.
Louis Docherty
Head of Customer Success