Top tips for driving traffic to your Hub.
Proper promotion of your Engagement Hub is critical to its success. We recommend using a mix of traditional and digital marketing strategies to promote your Hub, always keeping your target audience in mind.

Before you share your Hub or competitions, we recommend setting up your Hub SEO/SEM and card sharing settings.
Contents:
In-Venue Promotion:
Take advantage of foot traffic by advertising your Hub as many places as possible in-venue.
Posters
Use posters in areas of heavy foot traffic, points of sale and toilets to maximise their effectiveness. Designing with vibrant colours and strong fonts can help draw the customers attention. Be sure to also include a QR code so patrons can quickly scan and access your Hub.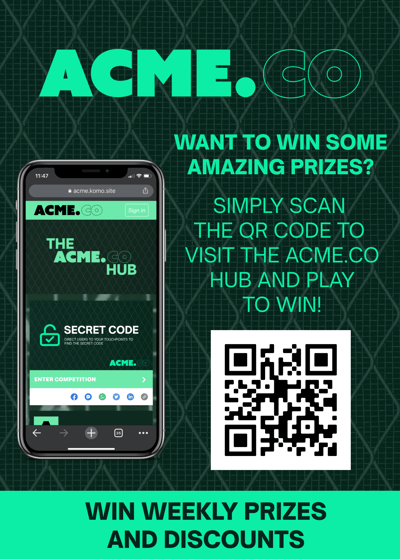 Sample promotional poster
Digital screens
Large, in-venue screens are also a great digital medium to promote your Engagement Hub.
Pro Tip: Include animations to capture customers attention!
Train staff on how to promote the Hub
Face-to-face selling is an excellent opportunity to personalise the promotional experience for the customer. Train your staff on what the Hub is and its purpose to make it easier for them to showcase it. We recommend providing them with a "cheat sheet'" on how to sell the experience to customers!
What to include in your staff cheat sheet:
The overall goals of the Hub and its benefits for the business.
Prizing details
What content is on your Engagement Hub.
A brief overview of the user experience.
Specific copy and phrasing staff should use to promote the Hub to patrons.
Check out how Clubs NSW created a video to assist in training staff
Digital Promotion
In addition to in-venue promotion, we highly recommend using digital channels to drive traffic to your Engagement Hub. Below are a few methods on how this can be achieved:
Social media
Post regularly to social media about the Engagement Hub and its competitions. Use CTA's and focus on the available prizes to effectively drive people to your Hub.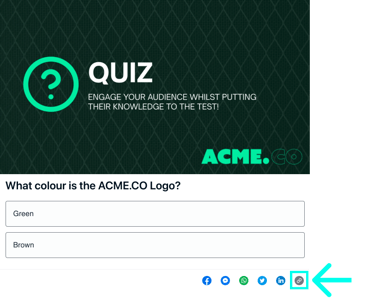 Tip: Share specific cards across your socials by clicking the grey link button (see, right). This copies the direct link to the card; when a user clicks on it they will be taken to this content.
Many of our Content Cards encourage user-generated content, which can be great content to repurpose for your socials. Popular UGC cards include Poll results, Meme Generator, and 20 Words or Less entries.
In the case of bigger campaigns, you can also use influencer marketing to drive people to your Engagement Hub. For a great example of this in action, check out the promo videos from Williams Racing below and The Budget Rental Roosters Hub:
Williams Racing Engagement Hub Promotion
Budget Rental - Search for The Roosters Biggest Fan
Paid ad campaigns
Most social media channels reward paid advertising, so don't be afraid to boost posts and set up Hub-specific ad campaigns to drive traffic.
For best practice, ensure your graphics highlight the prizes you have on offer and have clear CTAs.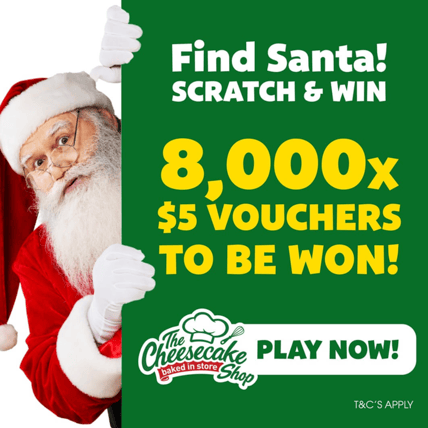 The Cheesecake Shop Dark Ad
Stories
Utilise Instagram and Facebook Stories to remind your community about your Engagement Hub. For maximum effectiveness, add a link into the story that drives traffic to your Hub.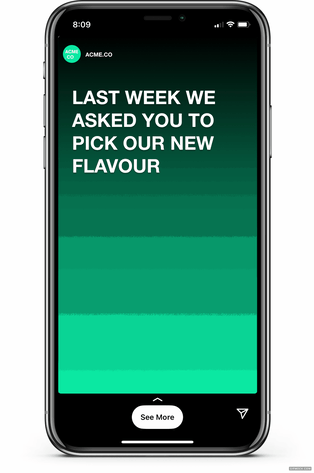 EDMs
Include your Hub, its content, and its unique features in your EDMs. Newsletters are often overlooked, but have seen great success for many of our partners!
You can break down your database even further into people who have already engaged with your Hub's content, by clicking on Data capture in the Editor and then Export. This will download a .csv file of the user's emails which you can then use to retarget with EDMs.
Tips and Tricks
Below are a few additional tips and tricks you can use to improve the promotion of your Engagement Hub:
Click Banners:
If there are specific cards or competitions you would like to promote, you can use the Scroll to card feature within Click Banner Content Cards. When added, users who click on the Banner card will be quickly redirected to the linked card/competition. This is a great navigation tool if you have a lot of content on your Engagement Hub.

Tip: To make your Click Banner stand out even more turn it into a GIF.
Use result screens:
Add result screens to your Checklist, Poll, Quiz and Personality Quiz cards for additional promotion. By getting creative and making highly shareable outcomes, not only do you improve the overall user experience, but you also increase the likelihood of the user sharing your content with their friends and family.
One last note:
At Komo, we pride ourselves on not only the results our clients achieve with us but the service they receive whilst bringing their Hub's to life.
If you ever have any questions about an upcoming activation, how you can best utilise Komo to get the best possible outcome, or just a general query, please don't hesitate to reach out to your Customer Success Specialist or email us at support@komo.tech
We also love your feedback, so please let us know if this article helped you by selecting from the options below.
Louis Docherty
Head of Customer Success